Anak Sastra
Literary Journal


Anak Sastra's 29th issue is now published
. Inside readers will find stories about siblings coping with the manner of their mother's death in Malaysia; a woman returning home to confront her memories of genocide in Cambodia; a foreign laborer encountering other Filipinas in Las Vegas; love and connections in Vietnam; our first comic strip set in Vietnam; and a handful of poems connected to Vietnam, Myanmar, Malaysia, and Thailand. Have a read and enjoy!
Call for Submissions
Submissions of short fiction, creative nonfiction, comics, poems, and book reviews for the 30th edition of Anak Sastra due out in late January 2018 are currently being accepted
. Please see the
submission guidelines page
for all information on deadlines, submission details and contact information.
---
About Us
Started in August 2010,
Anak Sastra
Literary Journal is a quarterly online publication which hopes to provide a venue for Southeast Asian writers to promote their writings in English. The magazine also encourages expats, tourists and regional connoisseurs alike to submit writings that share their experiences (real or imagined) living or traveling in Southeast Asia. Submissions from or about any
Southeast Asian
country are welcomed. The direct translation for "Anak Sastra" in Indonesian and Malay languages is "literature kid" (but please don't send us children's literature).
Finding Us Elsewhere on the Internet
...
Anak Sastra
is edited and published by
Kris Williamson
and the team at
Literary Concept
. Come and visit us at our
Facebook
page to say 'hi' or just 'like' us.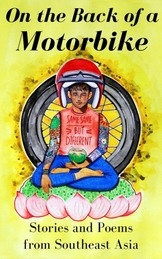 What else we have published
...
Twenty-six members of the Anak Sastra family came together in 2016 to contribute poems, short fiction and creative nonfiction to the
On the Back of a Motorbike: Stories and Poems from Southeast Asia
anthology.
Summaries and brief interviews with many of the contributors was ppublished in issue 25. If you would like to read the whole anthology, copies can be found all over the Internet and in select bookstores.
Paperback editions are available at
Amazon
,
Barnes & Noble
and
IndieBound
.
E-book editions are available at
Amazon
,
Nook
,
iTunes
,
e-Sentral
,
AbeBooks
,
Kobo
and
Inktera
.
Let us know what you think about the anthology, either on your blog,
Facebook
,
GoodReads
or any review site of your choice.
---